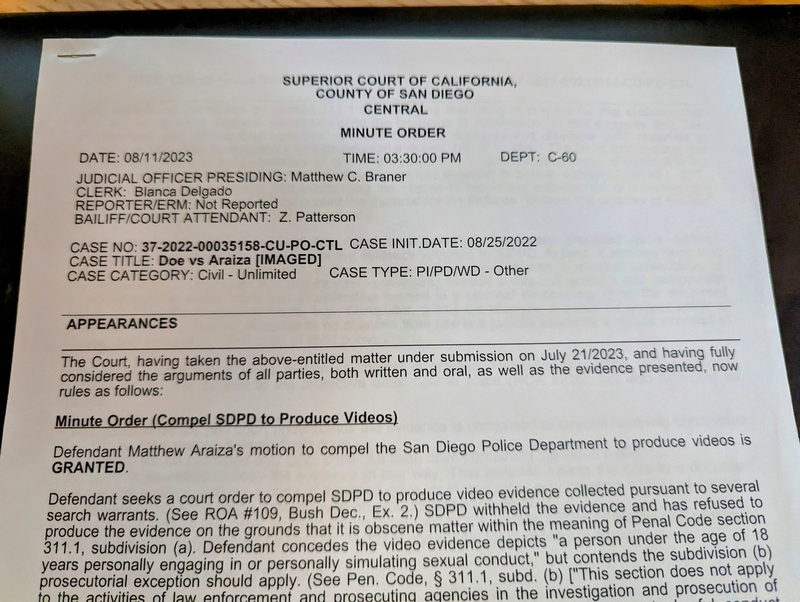 Last Friday, Judge Matthew Braner released his written ruling granting Matt Araiza's motion to compel the San Diego Police Department to produce the 12 video clips from the night Jane Doe, a 17-year-old high school student, says she was gang raped. All of the defendants in the civil suit will now receive a copy of the 12 video clips. SDPD had refused to release the videos under Penal Code Section 311.1, which prohibits the copying and distribution of material depicting a minor engaged in sexual conduct. An exception exists for criminal prosecutions, but the statute did not include civil actions.
Araiza's attorney, Dick Semerdjian, fought for release of the videos, which he has stated will exonerate Araiza, show a rape did not occur, and that Araiza was not even in the room.
Judge Braner made some key findings, writing:
"First, there is no legitimate dispute that the withheld evidence is relevant to Defendant Araiza and the other defendants' defense. The evidence depicts, and to some degree is the best evidence of, the acts Plaintiff contends constitute rape, gender violence, and false imprisonment."
"Here, although the claims against the defendants are civil, they were proceeded by a criminal investigation that resulted in collection of the evidence withheld by SDPD. Indeed, it appears likely that this evidence played a central role in the decision not to proceed with a criminal prosecution of Defendant Araiza. Defendant Araiza's interest in defending himself in this civil action is also comparable to the interest he would have had in defending himself in a criminal prosecution, give the abhorrent nature of Plaintiff's allegations…On balance, it would be grossly unfair to allow such highly probative evidence to be shielded from use in a judicial action by a statute intended to prevent and criminalize distribution of child pornography."
About Aleida K. Wahn, Esq.
I am an attorney, award-winning true crime writer, and legal analyst of criminal cases. I cover criminal trials and write stories and books about compelling, gripping, and unforgettable cases that impact our world. I take you into the courtroom in high-profile murder trials, rape cases, crimes of passion, cases involving mental illness, deviant behavior, and more. I have a deep passion for true crime, criminal law, and all aspects of the criminal justice system. I have appeared as an expert on true crime shows, including "48 Hours," "Snapped," and "The Dead Files," and provided legal analysis on high-profile criminal trials on Court TV, the Law & Crime Trial Network, Fox 5 News, ABC 10 News, and KUSI News. I also create and host shows with the Del Mar Television Producers Group, addressing criminal justice and social issues in recent criminal trials.
I provided my insight and legal analysis on Court TV and the Law & Crime Trial Network of the high-profile trial of former NFL star Kellen Winslow Jr. It was a trial that captured the nation as the heralded ex-football star with fame, fortune, and a famous name stood accused of multiple rapes and other sex crimes involving five women. As the trial delved into shocking facts, complicated legal issues, and unexpected twists and turns, I was there for every minute. After the trial, I wrote a book on the case, going behind the headlines to share the extraordinary details of what happened inside the courtroom. Judging Winslow Jr.: From NFL Star to Serial Rapist? Inside the Shocking Rape Trial of Kellen Boswell Winslow II is now available on Amazon.
I am passionate about telling true crime stories, as these penetrating stories have the power to move us all, while highlighting societal issues which need to be addressed. I have personally seen the human devastation which is present in each trial and believe there is a lesson to be learned in every single case. It is through awareness and examining critical issues society can effect change and even make new laws. To learn more, please visit: https://www.aleidalaw.com.
Read about the gripping and unforgettable trials that I have covered in my latest books: